All Platform Features
Access Platform Features Through Your MusicLessons.com Studio
When you signup for an account on MusicLessons.com, you access the platform through your own, customizable studio - a powerful website for creating and managing learning experiences.
Features For All Musicians
From sheet music to media files, your studio gives you a place to save, organize, and work with your music information with musician-friendly tools.
Platform features available in all studios on MusicLessons.com include:
Build Your Song Library

Build and share a collection of songs that include file uploads, YouTube videos, text, tab, PDFs, and MusicXML sheet music. Audio, video, and YouTube videos use our media player that allows you to add bookmarks to locations and loops that can be loaded quickly. Make set lists from and share them with your fellow performers so they can practice using the song information that you've curated.

Store & Share Media Files

Upload and manage a collection of media files that include video, audio, PDFs, and images. This feature is better than Dropbox or any other cloud file storage system because it's made for musicians. Audio and video files play with our musician-friendly media player so you can add bookmarks to locations and loops. You can add personal notes too that are only seen by you. Share your files with your followers (and students), and then they can add their own personal notes.

Write Articles In Your Blog

If you're a musician who puts yourself out there, you can write articles in your blog about your experiences. Build your community and your brand by posting media-rich articles on your studio's blog page and then share them on your social media feeds. Articles can contain uploaded media files including audio, video, images, and PDF.

Musician-Friendly Media Player

Play your audio and video files with musician-friendly controls, including a loop control. Controls are always visible and do not auto-hide. You can also change the playback speed of your audio and video files.
---
Features For Educators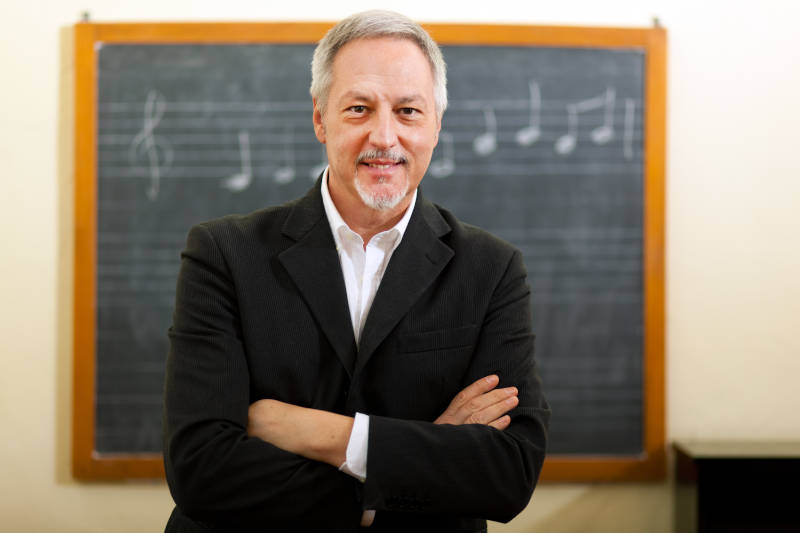 Teaching studios allow educators to more easily engage with their students, archive lesson recordings, and offer them robust online educational experiences.
Additional features available in teaching studios include:
Meet In-Person & Remotely for Classes & Private Lessons

In-person and remote meetings benefit from having a meetup page that keeps track of everything. Meetups on MusicLessons.com allow educators to schedule new sessions, archive session recordings, upload additional information such as notes, sheet music and other media files. These pages make it easy to access and work with all the combined information. learn more...

Publish Pre-Recorded Lessons & Courses

By providing pre-recorded lessons and courses, your students can work independently on material that is then reinforced in your live sessions. This type of instruction has been gaining lots of traction in the world of education, and it makes it easier for teachers to teach the same concepts over and over again. learn more...

Moderate A Discussion Forum

Your studio includes a discussion forum that can be used by you and your students. Post assignments and announcements, encourage your students to collaborate, and drive engagement in your active community.

Make A User-Friendly Address

Teaching studios can be easier to access using a friendly URL, like www.musiclessons.com/MyStudioName/. This will make it easier for your followers and students to get to your studio by typing the address directly in their browser address bar.

Import Your Student Contacts

You can import contact information for each of your students so that you can start working with them through your studio. When a student's contact information has been added, you can send out emails and invitations for new learning experiences through products that you create in your studio. Products are either meetings or pre-recorded lessons and courses.

Send Emails From Your Studio

The students and followers that are in your studio represent a list of people who have been added directly by you, or they are people who have chosen to follow your studio or have purchased your products. Emails sent directly from your studio will reach everyone, whether you have their email address or not. Your emails are saved and can be seen on a per-student basis so that you can see exactly what you sent to each student.

Track Student Engagement

Track which products and content have the highest engagement so you can gain perspectives on how people work with your learning experiences.

Add Multiple Locations

If your business has more than one geographic location and you would like to be found that way, you can add any number of locations along with contact information where people can find you.

Make Your Studio Private

If you want to your studio and your content to be accessed by invitation only, you can make your studio private. Only people whose contact information you've imported into your studio, and people who you've invited to access your products and content, will be able to access your studio and engage with you.

Collaborate With Other Educators

With a paid Organization plan, you can collaborate with a group of educators to provide services as a team or organization. You'll have the choice to provision seats that you manage, or invite teachers who already have an account on the platform. This is a great solution for band camps, schools, non-profits, or any other kind of collaborative venture.

Market Yourself

Your studio provides you with various ways for you to increase your marketing footprint, making it easier for potential students (and other musicians, promoters, and venues) to find you. Your home page is the place to start where you can add videos, promote your music, add social media links, and talk more about what you do.

Cloud Storage

Each studio comes with cloud storage that's used for uploaded files. The amount available depends on the selected plan for the studio. Personal and teaching studios include 100GB of storage for free. Additional storage can be purchased for a fee.

Show Your Student's Testimonials

Build your reputation by showing what your students have to say about you on your studio's Testimonials page. You will be notified when a student posts one, and then you can choose whether to show it or not. Testimonials are not reviews and instead are intended to be positive in nature. Students are encouraged to write positive things.
Next Page: Meet For Classes & Lessons >
---
How To Create Your Studio
If you don't have a studio yet, click the button below to signup and create one. If you already have a personal studio that you want to use for teaching, go to your Studio Settings > Visibility and click the Enable Teaching button.
MusicLessons.com Platform Services
Pages in this section: