Meet For Classes & Private Lessons
Manage and Archive In-Person and Remote Learning Experiences
Meetup pages in your studio help you organize your in-person and remote sessions, sheet music, media files, audio, video, notes, assignments, and session recordings on a single page. They can be used for private lessons or public classes with up to 300 students, and provide a robust learning environment that makes it easiser to teach and learn.
Whether meeting in-person or remotely, meetup pages give you easy access to a schedule, session recordings, assignments, a discussion, and all additional materials.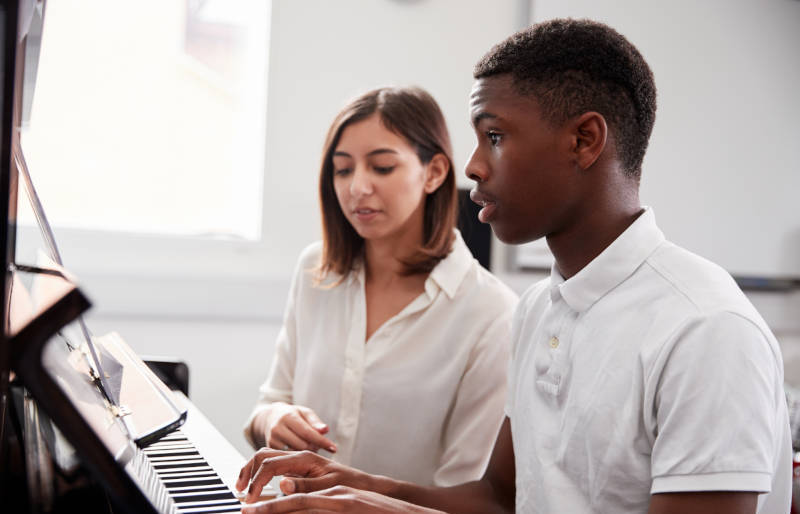 In-Person Meetings
Use your computer's camera to record in-person lessons and classes so that your students can access them forever.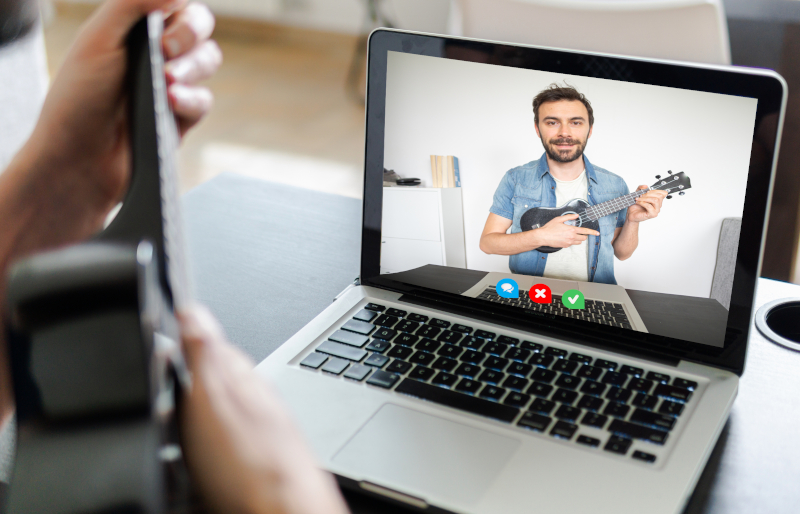 Remote Meetings
Use your free, fully integrated Zoom Pro account, or any video conferencing software, to meet remotely.
Record Your Sessions
Session recordings are a great way for students to review material that has been presented. When using your built-in Zoom Pro account, you can record directly to the cloud and then those recordings will automatically be added to your sessions. You can also record locally and then upload recordings files manually using any video conferencing software you want.
Once your recordings are available, you can add notes as well as bookmarks for quick access to playback locations and loops. Students can add their own personal notes to keep track of their own information.
Automatically Organize Your Live Learning Experiences
When you use Meetup pages, a lot of the organizational work is automatically done for you. Each session has it's own area that shows the join meeting link as well as session notes, uploaded media files, and session recordings. All uploaded files can be accessed in their corresponding sessions, or in the meetup file list. All transactions using the payment service can be accessed as well.
Media Files
Classes and lessons often require additional files for sheet music, images, audio, and video. All these files can be marked up with notes that include bookmarks and loop playback locations. Students can also add their own private notes that include their own bookmarks to audio/video playback locations. All audio and video files take advantage of our musician-friendly media player!
Chat/Discussion
Meetup pages include a discussion that can be accessed by all participants. People can use the discussion to communicate at any time, which boosts student engagement and collaboration, and provides a communication channel within the group.
Send Emails To Attendees
You can send out emails directly from meetup pages directly to all attendees. Use this feature to get your students prepared for upcoming sessions and to send out any other information that is relevant.
Integrated with Zoom
Zoom is directly integrated into your studio, but you can use Skype or any other video conferencing system you want by saving a link to your sessions that will take your students to your remote meeting.
Free Zoom Pro Account Included!
For a limited time, teaching studios come with a free Zoom Pro account that is integrated directly into your studio. There is no limit to the duration of your meetings, and you can record directly to the cloud. Cloud recordings are then automatically uploaded as an archived session recording.
Host A Podcast
That's right, you can convert any meetup page to a podcast that you can publish in the Apple Podcast Directory, and that can be played in any podcast application! You can use Zoom or any video conferencing app if you want people to join in. If you use Zoom, you can record to directly to the cloud, or you can record locally, make your edits, and then upload them as episode recordings.
Fees: How Much Does It Cost?
It is free to create meetup pages that you allow your students to access for free, or that you charge them to access using your own payment system. Keep in mind that if you use your own payment system, you will need to grant access manually and no accounting information will be available through your studio.
If you choose to use our Payment Service to sell access to meetups, you will be charged a service fee that is calculated based on the plan that is assigned to your account and the total purchase price of the meetup. See our pricing page to compare plans. The service fee will be deducted at the time of the sale, so no out of pocket expenses will be incurred. An additional service fee may also be charged to the purchaser at the time of checkout to cover costs associated with their participation.
Using our payment service takes work off your shoulders by making it easier to manage your financial data and who can access to your meetups.
Next Page: Publish Pre-Recorded Lessons >
---
How To Create Your Studio
If you don't have a studio yet, click the button below to signup and create one. If you already have a personal studio that you want to use for teaching, go to your Studio Settings > Visibility and click the Enable Teaching button.
MusicLessons.com Platform Services
Pages in this section: